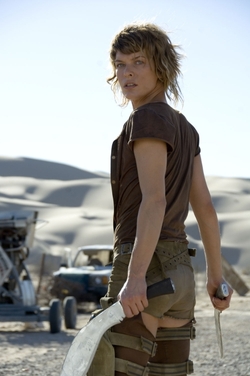 Some New York secrets are that all of the major sales at department stores are coordinated with when the Wall St. guys get their bonuses, there's a secret underground footpath in Chinatown and everyone takes half-days on Fri. to run to the latest movie openings.
Today, they'll probably work quarter-days to be the first in line for the Resident Evil: Extinction matinee. Oh, another secret is the mouth-breather in the Comedy department calls an afternoon film a "manatee" and thinks it's funny every time. "Y'all taking off t' see the manatee?" Gah!
No sea-cows in RE: E, but plenty of zombie birds and plenty of Milla. As we've discussed, the movie could be a period piece about the invention of the glue they use to paste overdue envelopes into the back of library books, and if it has her in it we're taking the day off. She's a department fave!
In this pic-from-the-flick she's looking over her shoulder accusingly wondering why you're here now reading this and not in the dark with a bag of popcorn. Git!
Here are the early reviews if you need help. Don't believe them. Early word.
Read More