Remake of the Week: Fantastic Voyage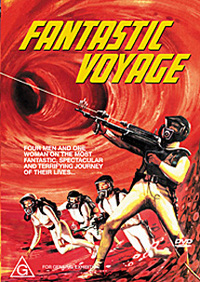 Hot on the heels of other recent remake announcements, Variety is reporting that Roland Emmerich, director of Stargate, Independence Day, Godzilla and The Day After Tomorrow, will helm a remake of Richard Fleischer's 1966 science fiction movie classic, Fantastic Voyage.
The plot of the 1966 film concerns the defection of a European scientist to the United States. During his escape, an attack leaves the scientists with a blood clot in his head that will soon kill him. The clot is unreachable through normal surgical means, so a team of specialists is miniaturized and injected into the scientist's body to destroy the clot, save his life, and make the world safe for defecting scientists. And if that doesn't grab you, I think I recall a scene with Raquel Welch in a scuba suit swimming in plasma. Or was it Donald Pleasance? Darn it, I hate it when I confuse those two.
What might be interesting to note about the 1966 film was that a writing credit is given to Jay Lewis Bixby, a name that was used by science fiction writer Jerome Bixby. Jerome Bixby has written for several sci-fi productions, including Star Trek and The Twilight Zone. If I may free associate, a 1961 episode of The Twilight Zone was based on his excellent short story "It's a GOOD Life" and featured Billy Mumy wishing people into a corn field. Mumy went on to play Will Robinson in Lost in Space and Lennier in Babylon 5 and later returned to his role in the Twilight Zone revival series, which aired a sequel called "It's Still a Good Life".
Another interesting factoid related to Fantastic Voyage: The novelization was penned by Isaac Asimov who later wrote a sequel called Fantastic Voyage II.
Emmerich to captain 'Voyage' [Variety]
Read More