Reaper Trolls For Souls Tonight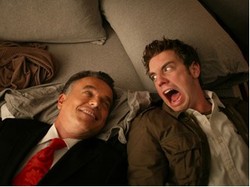 I'm hoping the CW's Reaper is going to blow me away tonight at 9 p.m. on the CW because, hey, I'm investing an hour of my precious time and I love character actor Ray Wise. Wise plays Satan and he's done terrific work on 24 and Jeepers Creeper II. Heck, he' s been around since the days of Charlie's Angels and Lou Grant. So Wise knows his craft.
The question? Is the plot of Reaper, which involves a slacker whose parents have sold his soul to the devil so the slacker must become the devil's bounty hunter, compelling enough? In the first episode, Sam (the slacker), is seen tracking "down evil souls that have escaped and returning them to Hell. (But)
Sam refuses to accept his bizarre fate. After getting just a glimpse of
Satan's temper, however, Sam realizes that breaking a deal with the
devil has consequences that are very, very bad. Still, Sam is
fascinated by the devil's charm and his flattering insistence that Sam
is full of untapped potential." The one thing I don't like is that Sam is called a slacker partially because he plays video games. Gamers are not slackers. Gamers are gamers. 'Nuff said.
Read More