Reader Pics – Horror Street Art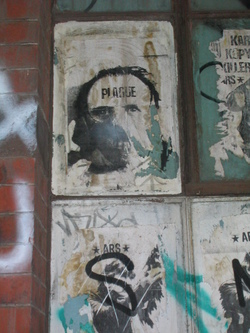 As you know, we collect photos from our readers over at the monsterfestpics@gmail.com address. Sometimes I dip the bucket into the well and nothing comes up, and sometimes it's brimming with wriggling pic-fish. Here's the latest catch.
Philip from New York sends this creepy graffiti shot he took somewhere in Chinatown. That whole stencil and spray paint thing is already an interesting urban phenomenon, but when you make the stencil of a well-known horror icon, it becomes Horror Department wallpaper.
Plague?
Philip would like to direct us to this video – The Ultimate Showdown, which features a guest appearances from a certain giant green lizard we're all familiar with. Also, Chuck Norris.
Take the leap for some more light-hearted pics from Brooklyn.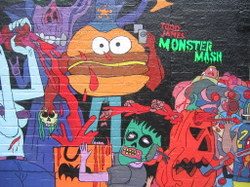 Not sure what Todd James' Monster mash is, exactly. When you search for it, you get mostly pictures like this. Hmmm.
Anyway, it's cool.
Thanks, Philip. Goatlings, want your pics featured? Even if it's just a shot of a horror poster at your malleplex, we'll run it and pimp a link for you. That's how we are!
Read More