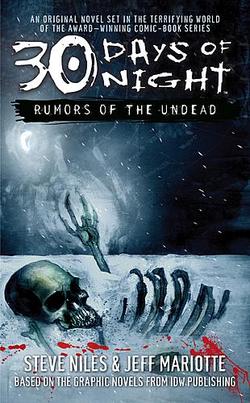 Soooo…a lot is going into the marketing of 30 Days of Night which is currently slated to open on October 19th (but most of the posters just say "October").
Their official site is here – 30 Days of Night, but it takes 30 Minutes of Flash Downloading, so I couldn't check it out too completely.
As every schoolboy knows, it's based on a graphic novel about vampires in Alaska (which is a super setting), and I love that they're launching a series of original novel novels set in the same universe. Here's a link to the first one – Rumors of the Undead.
For more book talk – take the leap!
I remember trolling the flea markets as a boy looking for novelizations
of horror movies I wasn't allowed to see. Books don't have obvious
ratings, you see, so it was easy to fool the 'rents, but I don't
remember too many series based on the "further adventures" of Pumpkinhead, etc.
Apparently, I've been missing out. Here's a link to an installment from a series of paperbacks based on…of all things…Jason X! Who knew?!
Anybody read books based on movies?
There are those who say that anymore* books are written with the goal of being made into a movie, and there are also those who believe being made into a movie legitimizes a book. Well, that or being chosen by She Who Must Never Be Named in Our Presence's Book Club.
So…there is also a stigma attached to anything that springs from a movie. There's the idea that it's just marketing or merchandise or product, but it's not real. It wouldn't have existed without the movie, and therefore has less validity. You can't deny you've felt this way.
So…there's this sort of paradox where people expect that if your book is any good it should be a movie, but they expect it to end there. If the movie spawns more books, then those books are just potboilers or some other way to squeeze six bucks out of you or tide you over until the sequel…to the movie, not the book.
Now consider, if you will, the strange and haunting tale of the Jurassic Park series. The movie, based on the original novel, was a massive hit, so Crichton Crichted out another book, but the book was a sequel to the movie and not to the original book. Characters who died in the first book but lived in the movie were suddenly alive again in the second book. So…I don't know what to make of that.
The point of this entry is to say and ask:
"I kind of like trashy paperbacks, do you?" and "Can anyone think of an example where the novelistic continuation of a movie series gave them pleasure?"
*Do you know, I have never until this moment used the word "anymore" that way? Wild what 4am blogging will do. It's all for you, goatlings, as Daimen's nursemaid would say.
Read More