Poll: Your Favorite Frankenstein
Yesterday, I spoke, opining about the merits of my favorite Frankenstein movie, and you spoke back: "You're an idiot." So here's your chance to vote for your favorite actor to pull on the ghoulish latex mask of the Frankenstein Monster! After the jump, a write-up of the more conspicuous entrants…
---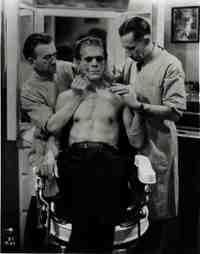 Boris Karloff: Boris Karloff's gaunt face, glowing eyes, clomping boots and flat, tundra-like skull pretty much defined the look of Hollywood's Frankenstein Monster. Tod Browning's film does not bear much resemblance to the novel, instead being based more on a European stage play that was popular at the time, but Boris Karloff is probably the actor most universally identified with Shelley's haunted wretch. Of course, Karloff was not Universal's first choice…
---

Bela Lugosi: Bela Lugosi, fresh off his success in Dracula, was initially approached to be the Monster, but turned it down, fearing to be typecast as a "monster" and not be taken seriously as a thespian. As you no doubt know, this worked out precisely as Bela intended, and Lugosi went on to star in such dramatically sophisticated works as Glen or Glenda and Plan 9 From Outer Space. But Lugosi did find work in the Frankenstein films, first as the hunchback Ygor (starting in Son of Frankenstein), then later as the Monster himself in Frankenstein Versus The Wolfman, starring alongside that "other" Frankenstein guy…
---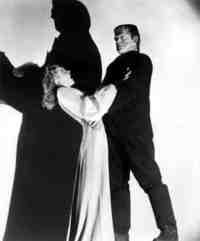 Lon Chaney Jr.. The son of the Man of a Thousand Faces, Chaney — along with Karloff and Lugosi — completes the Holy Triptych of Universal Horror Movie Stars. Chaney actually has the honor of being the only actor to portray all four of Universal's monsters: he was The Wolfman, The Mummy, Frankenstein's Monster and Dracula all rolled into one. His sole performance as the Monster was in 1942's The Ghost of Frankenstein, the first Frankenstein film after Karloff left the role.
---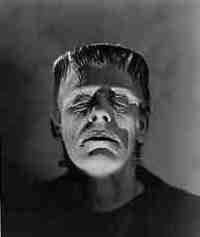 Glenn Strange: Oddly enough, though, neither Karloff's face nor Lugosi's or Chaney's was latched onto by Universal when they began pushing Frankenstein brand merchandise. Glenn Strange was in the role at the time, starting with 1944's House of Frankenstein, and so it is his face that is most likely to be seen as the Frankenstein face on a t-shirt, or lunchbox, or Halloween mask. According to legend, Lon Chaney Jr. got Strange extremely inebriated on the set of House of Frankenstein. In the climactic scene, Strange had to be stuck for hours in "deep quicksand" (which was actually cold mud) waiting for the cameras to roll. Chaney recommended that alcohol would keep Strange warm as he lay there waiting.
---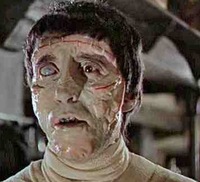 Christopher Lee: Like Bela Lugosi, Christopher Lee is most well known for playing the part of Dracula, upon which he built his career. But also like Lugosi, Lee played the Frankenstein Monster in Hammer Film's Curse of Frankenstein. Even stranger, Lee played Frankenstein's Monster before he played Dracula. Curse of Frankenstein is an interesting film: it pretty much kicked off Hammer Film's horror mythos, made both Peter Cushing and Christopher Lee stars, and was vehemently fought by Universal, to the point that they had to adopt their own, "new" look for the Monster. While Hammer's version of the Monster is closer to what Shelley envisioned, it still looks strange to modern eyes.
---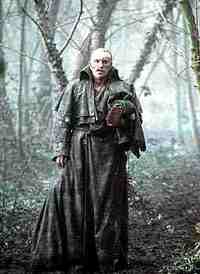 Robert De Niro: If Christopher Lee is an unlikely Frankenstein, with his suave look and imposing, hypnotic presence, Robert Deniro's about as unlikely as Pauly Shore. But Kenneth Branaugh directed De Niro as the Monster in 1992's Mary Shelley's Frankenstein, a spin-off of sorts of the successful Coppola take on Bram Stoker's Dracula. The film is the most loyal to the original novel, and De Niro, while quintessentially De Niro, does a fine job equitting himself as a darker, more criminal Monster.
Know one we missed? Let us know in the comments.
Read More