Playthings for the Serious Doctor Who Fan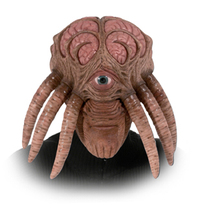 It wasn't until I browsed through the back pages of a sci-fi fan magazine that I became aware of a whole new level of fannishness…an entire sub-culture that redefines the meaning of dedication and devotion. These magazines are riddled with tons of themed merchandise waiting to reach out and grab the wallet of any unsuspecting superfan-in-training. I managed to resist (which is my ego-preserving way of saying I'm cheap), but the allure of owning a piece of my favorite sci-fi property was strong.
One of the most fertile sourced for merchandising around (aside from the obvious mainstays Star Wars and Star Trek) is Doctor Who. Heck, it's been around (on and off) since the '60's and they have dozens of seasons from which to draw ideas. So take your pick. Which would you rather have? There are tons of toys to choose from…
The types of Doctor Who collectibles that are out there may surprise you. Sure, there are the expected 1,001 action figures. (Not that having these sitting on some shelf constitutes "action" by any stretch of the imagination.) But maybe you're looking for something a little more arcane? Your own personal, desktop-sized Face of Boe, perhaps? Maybe a TARDIS cookie jar is your sort of thing? Or a Cyberman shower radio? (Cybermen are famous shower singers.) How about a remote control Dalek with a mutant scoop? (The most threatening of all Dalek tools, I think.) Would a Sonic Screwdriver that dispatches Bath Fizzers be more your style? I'm partial to the Dalek Sec Hybrid voice changer mask (pictured above) becaue it looks Chthulhian.
Cyberman Voice Changer [SciFi Weekly]
Read More