Pics from Dragon Con: Costume Do's and Don'ts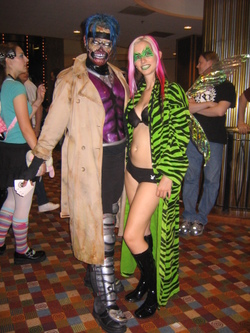 As you may or may not know, Dragon Con is the Southeast's largest sci-fi, horror, and comic convention all mashed into one glorious four day weekend. It's where I met Tippi Hedren, and it's where I took this pic of today's horror Do.
If you're going to dress up as a superhero, from my perspective, you should zombie it up. When you're an undead do-gooder, you get the best of both worlds. It's like scary justice, and as you can see he's reaped the rewards of his efforts by acquiring a green zebra fairy companion. For the duration of this photo at least.
The Marvel Zombies are super-popular, and since there's a large contingent of folks in Hollywood who look at comic books as extended storyboard pitches for movie ideas, can a Marvel zombies movie be far away?
What isn't far away enough is our Horror Don't. Take the leap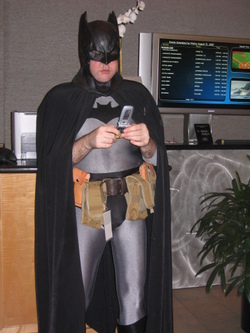 "Q-u-i-c-k R-o-b-i-n," texted the Dark Knight, "my leather pouches are pulling down the waistband of my costume." Worst utility belt ever. Don't get caught doing the Tiny Keyboard Thumb Waltz while you're supposed to be the frightening scourge of the underworld.
"I know there's a way to make punctutuation marks on here somewhere. I need an exclamation point to show the commissioner I mean it."
You'll notice there's no Streakhaired Stripeface friend here. Clumsybelt Slowtext is our Horror Don't.
You can send up pics, you know. Just email them to monsterfestpics@gmail.com We'll totally publish them. Totally!
Read More