Our Man saw Batman at Dragon*Con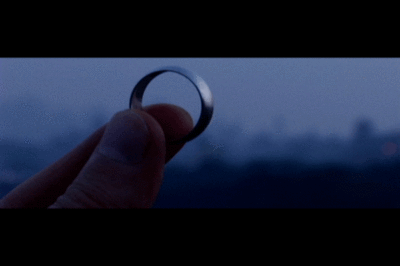 Our special correspodent Jay Stern just got back from last weekend's Dragon*Con, where he premiered his new film The Ring of Ultimate Power
(An epic in its own right, the movie is a pitch-perfect, laugh-out-loud parody of humorless fantasty films.)
Here's Jay's recap (like a good novelization, it's complete with 12 color photos!)
* * *
JAY STERN REPORTS:
Thanks to the programming visionaries at the Dragon*Con Independent Film Festival, I was in Atlanta last weekend for the world premiere of a short film I made with M. Sweeney Lawless . Dragon*Con screened nearly 90 sci-fi, fantasy and horror films over the course of the four-day festival, but I made sure to take time out to explore the teeming exhibition halls as well. Dragon*Con is really a collection of multiple conventions for sci fi, fantasy, comic book, gaming, film, and even pirate fans (pirates were really big this year). Dragon*Con is divided into thematic sections called "tracks" and there were over 30 tracks this year, including several brand new ones. Below are some photos of some of what I saw during my four days in Atlanta.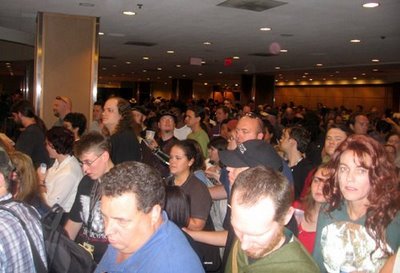 The crowds were bigger than ever this year; an estimated 40,000 fans
visited the con, 10,000 more than last year. This shot gives you an
indication of how difficult it was to move around. Try doing that in a
Stormtrooper costume!
* * *
Did somebody say Stormtrooper? Dragon*Con is where fantasy
and sci fi fans come out to play and this one didn't want to choose
sides. But I gotta say, a kilt really looks much better with a pair of
handcuffs.
* * *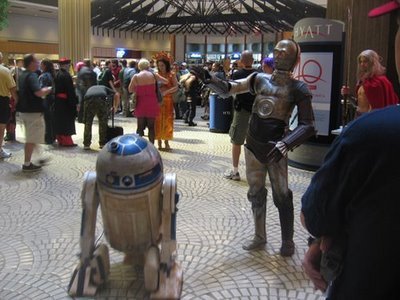 Star Wars was really big this year, and, costume-wise at
least, seemed to dwarf all of the other sci-fi franchises. But come on
people– how can you beat this? See how R2D2 looks all blurry? That's
because he is MOVING! I think the guy in the C3PO suit was controlling
him. Unless Kenny Baker was inside, but I doubt it.
* *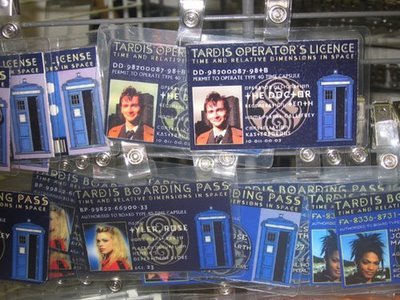 And yes, there was plenty of Doctor Who paraphernalia available, although the slant was decidedly towards the new incarnation.
* * *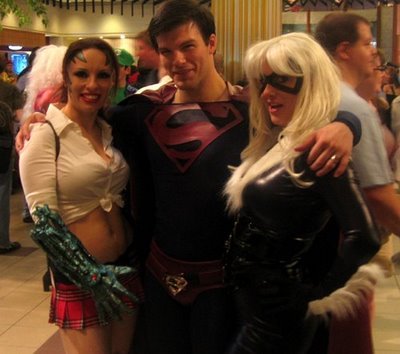 The new Superman franchise was also around, even though I
still haven't met anyone who liked the movie. I guess that cyborg
cheerleader on the left and Spider-Woman on the right liked it, but I
was too shy to start a conversation with them. I can't tell if these
chicks dig the spandex, or the wedding ring.
* * *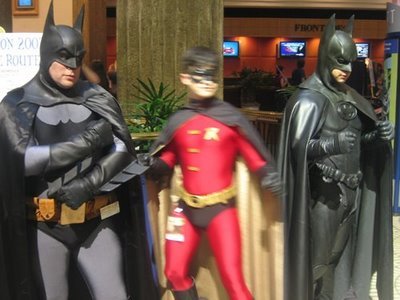 This Robin can't choose which version of the franchise he wants to hang with.
* * *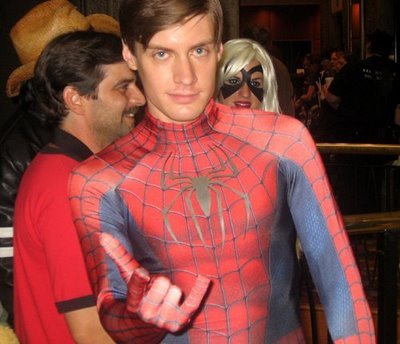 Continuing on the comic theme, check out this pretty convincing
Tobey Maguire lookalike. I was surprised to see how many people came to
Dragon*Con posing not as characters, but as the actors who played the characters. Most cases weren't so successful. See below.
* * *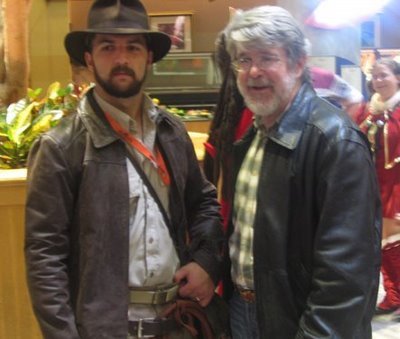 I suppose this Indiana Jones is from an alternate universe where Magnum P.I.
let Tom Selleck out of his contract so that he could accept the part.
Although the George Lucas lookalike has the hairstyle down pretty well.
* * *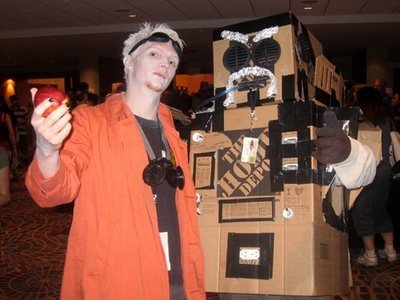 There was a science track this year, which, apparently, included mad scientists.
* * *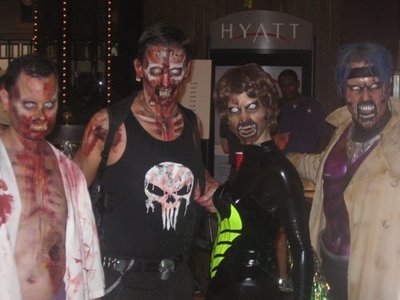 And there was an apocalyptic track, or, more accurately,
post-apocalyptic track, which featured lots of zombies. And there were
many movies about people in the future forced to wear gas masks. You
just know that's going to happen in 50 years.
* * *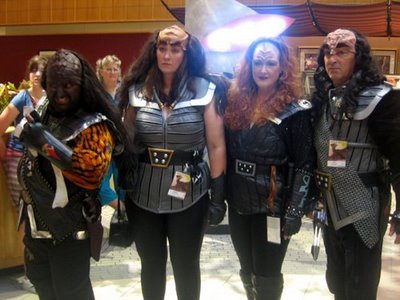 There were Star Trek fans of course, in case you were
worried. This year's emphasis was definitely Next Generation oriented.
A highlight of the TrekTrak section of Dragon*Con was the 2007 Miss Klingon Empire Beauty Pageant. I'm not sure who won, but if you ask me, they are all equally beautiful.
* * *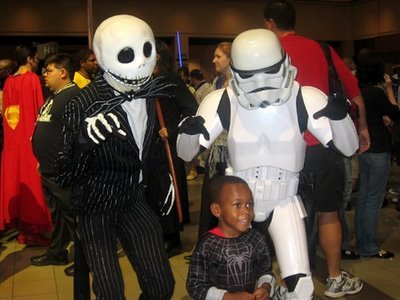 Dragon*Con 2007: where worlds collide. It was hard returning to
reality today. I saw a man on the street wrapped in a blanket when I
was heading towards the subway and I would have sworn he was a wizard
before he asked me for change. But maybe he was a wizard down on his
luck.
Read More