Old School: An American Werewolf In London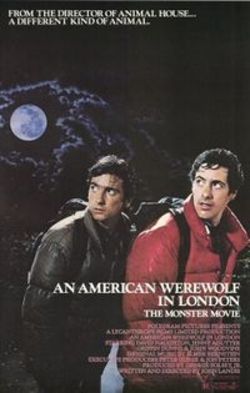 When Adam Green talked in the previous post about Jon Landis' An American Werewolf In London, I began thinking about how cool and ahead of its time that movie was. The main thing I remember beyond the tight humor is the amazing use of technology used to morph into the lycanthrope. It still skeeves me to this day.
When I looked, I found some cool trivia about the movie for you:
-Jon Landis wanted to use Cat Stevens' Moodshadow and Bob Dylan's Blue Moon in the film. Both said, no way.
-There's a big shout out to newlyweds Princess Di and Prince Charles in the credits.
–Hitchcock-like, director Landis appeared as a bearded man who gets hit by a car at the film's end.
-It was the first film to win the Oscar for Best Makeup.
-Since Landis directed the seminal Animal House, studio execs wanted to see John Belushi and Dan Aykroyd in the main roles. But Landis wouldn't, preferring to cast Griffin Dunne and David Naughton.
Read More