Oh, No! More Friday The 13th!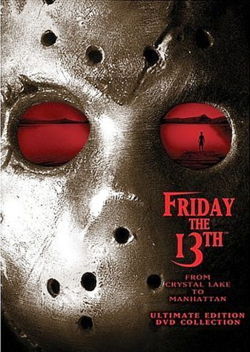 OK, I was down with Rob Zombie remaking Halloween: not only is he Rob Zombie, he's got his own style (whether you like it or not). I figured, let him hone his craft with Halloween, and he'll give us mo' better down the line. But I wanted to hurl when I read, in Shocktilyoudrop, that they're going to remake Friday The 13th. Is Hollywood so forlorn, so lemming-like, so hard up for ideas, that they need to make another Friday The 13th sequel?
Says STYD, "Strap on your hockey masks one more time, Voorhees disciples, 'cause
we've got the exclusive news on Platinum Dunes' long-mooted Friday the 13th film that you've been waiting for." But wait; there more (unfortunately). (Note: Dunes is also remaking The Birds. Why, I ask you? Why?)
"A reliable tipster phoned in this evening (and this source is 100% solid gold, baby) to tell us Dunes is putting their proposed Friday the 13th
on the pre-strike roster with the aim to begin shooting sometime in
early 2008. The Dunes team, Brad Fuller and Andrew Form, we've been
told, have also officially locked a new pair of writers to tackle the
property…Damian Shannon and Mark Swift.
"This duo, we're sure you recall, ultimately won out and penned 2003's successful Freddy vs. Jason
after New Line had spent years developing the big screen battle royale.
Platinum Dunes has faced its share of struggle dragging a new Friday the 13th out of the mire; early drafts by Mark Wheaton (The Messengers) were mulled over and abandoned, and Jonathan Liebesman (The Texas Chainsaw Massacre: The Beginning) was attached as a director. No word yet if Liebesman is still attached – we hope to bring you word on that soon."
Read More