Oh, Baby! Real Life Werewolf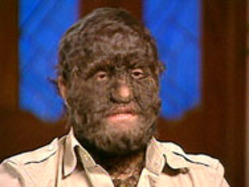 This week, I'm on this werewolf quest, and I want to know everything I can about the shape-shifting beast. In my search for eerie knowledge, I came across an oldish story from ABC News regarding a condition called hypertrichosis.
The story of the Gomez brothers is sad: they were kept like animals in a freak show as children. They then rose to fame with a circus. Still, they are the victims of prejudice even today. Yet Danny Ramos Gomez has the right attitude about his werewolf-like condition and the taunts he gets, saying, "I don't take it seriously. I know who I am inside." We could all learn a lot from that positive attitude.
Read More