Naomi Watts Talks Unnecessary "Birds" Remake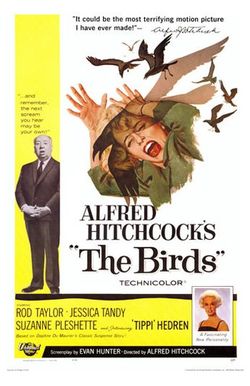 What is it with Naomi Watts and remakes? First she does The Ring, then King Kong and The Painted Veil; she's also in Funny Games Michael Hanke's upcoming English-language remake of his 1997 shocker and now she's confirming that she's in talks for the starring role in the completely unnecessary remake of one of the greatest films of all time, Alfred Hitchcock's The Birds.
While promoting her work in David Cronenberg's Eastern Promises (which is excellent, by the way; highly recommended), she tells Shock Til You Drop, "It's happening, but I haven't read the script yet, but we're in talks, and I hope it works out. They're still working on it and making sure it's just right."
While I'm sure that Ms. Watts truly wants the best for the project, has anyone bothered to tell her that this is coming from Platinum Dunes, the production company behind the awful Texas Chainsaw Massacre remake and prequel, the Amityville Horror remake and this year's Hitcher re-do? Did any of those picture turn out well? No, they did not. Your remake track record may be fairly spotless for the moment (no one's seen Funny Games yet, through with Hanke at the helm it likely it will turn out fine), so can't you just leave this one alone and let another actress take on the role that made Tippi Hedren famous?
If you do indeed decide to go through with this, Naomi, then I wish you good luck, and I hope you exert some quality control over the thing. With Platinum Dunes involved, it's sure going to need it.
Read More