Monsters and Aliens Moved Up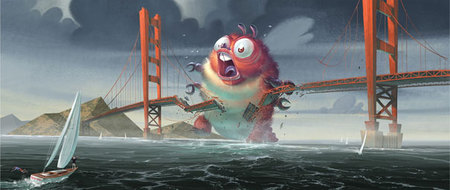 DreamWorks announced this week that they are moving up the release date of Monsters vs. Aliens 3D from May 15th, 2009 to March 27th. The monster film was originally set to appear in theaters against Avatar, James Cameron's giant 3D project. Monsters vs. Aliens is DreamWorks Animation's first-ever film produced using stereoscopic 3D technology.
Monsters vs. Aliens, based on the 1980s comic book Rex Havoc and the Ass-Kickers of the Fantastic, mixes the classic 1950s monster movie with action comedy. The premise involves human-hating aliens disrupting earthbound cable television signals, and a monster-hunting superhero named Rex Havoc (Great name!) confronting those pesky extraterrestrials to ensure that television viewers get their fill of TV, which is a noble thing to fight for, unless those viewers happen to be watching reruns of Electra Woman and Dyna Girl.
Current talent rumored to be attached to the project includes Kurt Russell as Rex Havoc (possibly another great superhero role for the likable Russell, who impressed in the Disney film Sky High), Vince Vaughn as Ick!, Johnny Depp as Liverous (another coup, if true), Nikki Blonsky as 50,000 Pound Lady, and William H. Macy Capt. Toxic.
Release Date Changes: Narnia: Dawn Treader, Monsters vs. Aliens, The Wolfman [/film]
Read More