Midnight Movies – Troll 2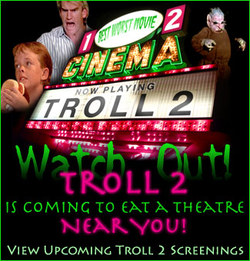 There's a pretty strong tradition of the Midnight Movie, and more often than not the film being shown is from our genre of choice. We own the late-night.
When you're a kid, it's cool to break the rules and stay up past any reasonable bedtime, and when you're grown up, it's fun to see all the kids having a good time. There's a kind of festival atmosphere and, usually, the film itself is almost secondary.
Secondary in title as well is Troll 2 which is making the rounds this Summer/Fall, touring from town to town with it's unparalleled melange of pitch-imperfect dialog and garage refrigerator special fx.
Here's a link to the tour site and some info on a documentary about the movie: Troll 2 Rules if By "Rules" You Mean "Is Terrible."
Later today we'll have an episode of the Horror Department video documenting the Troll tour's visit to NYC. Watch for it!
Read More