Meet A Reader: Microwaved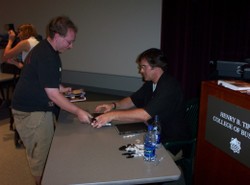 Loyal goatling Microwaved sent us this picture of himself with indie demi-god Bruce Campbell. That's Micro on the left. The legend gets the chair.
He also hipped us to his MySpace music site which has some hardcore Tuesday tracks to check out. Microwave's Music! That influence list reads like a mix tape from the Raven's own collection, so we've got a lot in common, devoted reader.
Short of making your own horror movie and booking yourself as a guest on our Horror Department show, the best way to see yourself Writ on Blood on our site is to send us a pic to our monsterfestpics@gmail.com address. Be like Microwaved and maybe he'll show you the cool sketch Ash Sharpie'd into his book.
Read More