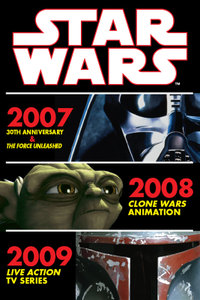 I don't know about George Lucas, but old age is being kind to his fans. Not too long ago, in a galaxy very, very close, George Lucas' grip on his franchise was tighter than Malcolm Reynolds' pants. But since the completion of the sixth and final Star Wars film, Lucas has finally given the go-ahead for not one, but two television series based on Star Wars. One will be animated (focusing on the Clone Wars and taking place between episodes II and II) and one will be live action (taking place between episodes III and IV).
Lucas is happy to be exploring other parts of his universe. Of course, Star Wars media tie-in books have been doing it for decades. (Fanboys would love to see Timothy Zahn's Thrawn books adapted to screen.) I, for one, am happy that Lucas will be allowing others to play in his sandbox. The Star Wars universe is HUGE and offers a myriad of backdrops on which to play out some fine stories. TV would be an excellent medium for exploring all the nooks and crannies of the Empire.
Details are still sketchy on what the shows will be about. I'm particularly interested in the live-action show. Battlestar Galactica (during the first two seasons, at least) proved that a well-trodden universe can work well. I remain hopeful that the Star Wars series will be at least as good as that.
George Lucas, Episode II: Star Wars Strikes Back — on TV [TV Guide]
Read More