Life-Sized Millennium Falcon Built Out Of Cardboard, Duct Tape And Chicken Wire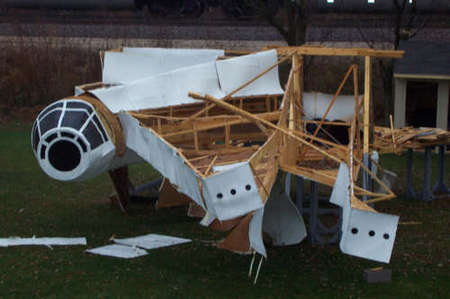 Sometimes, dorks can do great things. Marshaling their pallid, toneless flesh, sometimes — inspired by a passion greater than themselves — they are capable of kissing their cardboard cut outs of Princess Leia goodbye, taking a deep breath, reaching for the door knob and marching out into the world from the solipsistic sci-fi bubble of their mother's basement. And then, like the Egyptian pharaohs of old, they defy the odds and construct immortal tributes to their genius, to defy the abrading sands of time and inspire countless future generations with the splendor of their vision.
And then, sometimes, they just manage to make a gigantic Millennium Falcon in their backyard out of old refrigerator boxes and duct tape.
I do not mean to demean Mental Ward Film Productions, the visionaries who constructed the life-sized Millennium Falcon in their backyard. At over 40 feet wide and 12 feet tall, it's certainly pretty big. Built out of $3,000 dollars of wood, rope, cinder blocks, card board and chicken wire (!), it's certainly an epic, if inexplicable, accomplishment. If only it actually looked like the Millennium Falcon.
But I don't want to rag on these guys too bad. The director of the film this contraption served as a prop in, Stuck on Star Wars, shares this depressing anecdote:
I remember when I told my parents that I was quitting my job to build a life-size Millenium Falcon. My parents were pissed and I remember my Dad saying, how are you going to build a falcon. You don't even know how to use any tools."
But that's what genius is: the will to create in defiance of ability, competence or rationality. Unfortunately, future generations will not marvel at this creation: after four months of construction, the day after filming, a thunderstorm destroyed their creation in less than five minutes.
Make sure to watch the video. It's something special.
Life-Sized Millennium Falcon [Mental Ward Films]
Read More