Lair and Heavenly Sword: Two Monster-Filled Games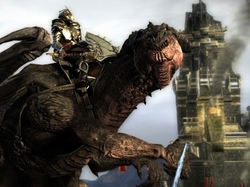 Today, I want you to be aware of two monster-filled video games for the PlayStation 3, games that will have you dreaming about monsters — if only because of the sheer amount of time you spend with them while playing.
Lair, well, hasn't gotten the best reviews in the world. But if you're looking for a game with wild, super-realistic graphics, a game where you can ride on the back of a fearsome dragon, you'll get a kick out of it. You'll be pitted against swarms of dragons of about eight species, the most evil of which are the blood dragons (hit 'em with a fireball – if you can). The game isn't that deep, but it's certainly worth a night or two of rental.
Heavenly Sword has all the game mechanics of God of War for the PS2 mixed with the dynamic, ooo-ahh graphics of the PlayStation 3. You'll be fighting thousands (literally) of warriors to get to the more monstrous creatures. The monsters here are the bosses, and one of the creepiest is Whiptail, a kind of goddess with an alligator tail who whips up mini-tsumamis to try to kill you.
Neither of these games will scare you. Rather, they'll give you the feeling of high adventure mixed with occasional creepiness. And that's enough for me.
Read More