Katherine Heigl Options Lost & Found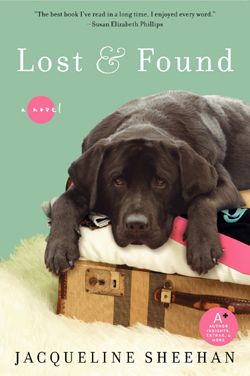 Actress Katherine Heigl (that's "Hi-gull," as she pointed out at the Emmy Awards this past Sunday when an announcer botched her name) has
optioned the film rights to "Lost & Found," a novel by Jacqueline Sheehan
that was released earlier this year.
Sheehan is a psychologist and
essayist, and her earlier work includes a novel based on the life of abolitionist
and former slave Sojourner Truth. The
author's website describes "Lost & Found" as "a heart-wrenching
exploration of one woman's stunning loss" when her "veterinarian husband dies
at a stunningly young age," as well as "a stunning, shattering work that gently
probes the human psyche." Prepare to be
stunned, obviously. Anyway, the heroine
gets a dog, which, as responses to tragedy go, represents a nice change from
Jodie Foster's approach in The Brave One.
Heigl won an Emmy this past Sunday
for her role as Dr. Izzy Stevens on Grey's
Anatomy, and critics raved about her performance in Knocked Up. Her producing
partner is her mother, Nancy Heigl.
Read More