Justice League of America Finally Coming to the Big Screen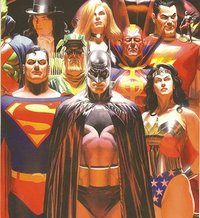 Variety reports that George Miller, director of all three Mad Max movies, is on board to direct the Warner Bros. production of the DC Comics property Justice League of America. The film has been talked about for years. At one point it was thought that the film would wind up being an animated adventure, but will now most likely be live action.
Timing is a bit awkward here. Since the Superman and Batman franchises have been revived, one might expect Brandon Routh and Christian Bale to be on board as their respective core JLA members, but that's not the case. Other core JLA members are Wonder Woman, the Flash, Aquaman (who must have had an inferiority complex, what with his mere aqua abilities), and Green Lantern. No parts have been cast yet.
I loved reading the Justice League comics as a kid, coming in somewhere around issue #124. And, yes, I used to watch the Superfriends cartoon. Even then I knew the jumped the shark with the introduction of the Wondertwins. But I was still eager when they finally decided to do a live-action TV show in 1997. Unfortunately, it was really, really, REALLY bad. Is that Miguel Ferrer? Nice career move. I only hope that the upcoming movie does them…justice. (Sigh. Even I'm shaking my head at that one.)
George Miller to lead 'Justice League' [Variety]
Read More