Just when you think you're read everything by your favorite author …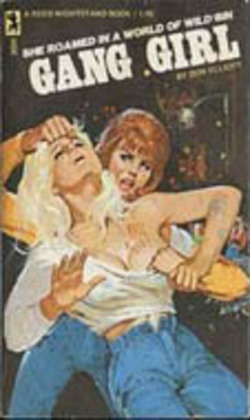 Remember Kilgore Trout, the Kurt Vonnegut character who wrote hundreds of science fiction stories and novels that could only get published as filler in porn magazines? That has some basis in fact.
The sleazy-looking book pictured here was written by Robert Silverberg, one of a number of major sci-fi scribes who helped pay the rent this way during hard times.
According to a letter to the editor in The New Yorker magazine (not reprinted in their online edition), responding to their recent article on Philip K. Dick, the burgeoning soft-core porn market offered quick, easy money to struggling writers who knew how to crank 'em out.
At least one prominent publisher. William Hamling, came from the sci-fi world himself. Hamling knew that with the collapse of the sci-fi pulp magazines in the late 1950s, there were many writers in need of cash, and gave work to Silverberg, Harlan Ellison, Marion Zimmer Bradley and others (though apparently not Theodore Sturgeon, whom Vonnegut names as the inspiration for Trout.)
Hamling also published novels by such young writers as Lawrence Block and Donald E. Westlake, who went on to great success in the mystery field.
Look here for some more background into Hamling's Nightstand Books, along with a lot of salacious covers and some clues as to who wrote what—great to know for you paperback collectors.
Read More