Just can't get enough dinosaurs?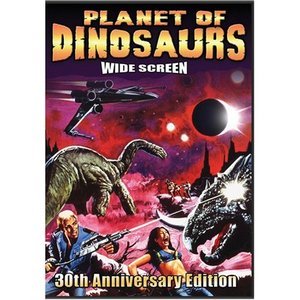 There are so many dinosaur movies that can be enjoyed for different reasons, often from minor distributors and with generic titles and unknown actors, that new release lists can leave me scratching my head. You may have the same problem if you spot Planet of Dinosaurs on your video store's new release wall this week.
Let me fill you in. This one is from 1979, and in the mode of Flesh Gordon or Equinox, it was apparently made to showcase the work of its special effects guys. So while the movie itself is, to put it charitably, awful, the stop-motion dinosaurs are plentiful and first-rate. They may be spaced out through the movie, but that's why DVD plays have chapter stops and fast-forward buttons!
In a nutshell, the plot of Planet of Dinosaurs pits the crew of a crashed spaceship against the large lizards on a planet with an athmosphere similar to that of Earth (hey, what are the odds?!?) Given the need to space the dino scenes out, our travellers spend half the film fighting with each other, making clear in the process why so few of them ever appeared on screen again. (The only performers you might recognize are James Whitworth of The Hills Have Eyes, and the intensely hammy Harvey Shain, who as "Foreman Shane" appeared in many of the soft-core movies written by Edward D. Wood Jr. in his declining years.
But hey, this isn't the kind of movie where you care about anything except the dinosaurs—or as the trailer puts it, "Ten-ton titans of terror clashing in a savage struggle for survival!" If you saw this as a kid, you probably have fond memories of it. And if you have kids, you don't have to worry about excessive gore or other nastinesses.
Read More