John Carpenter Star Sings!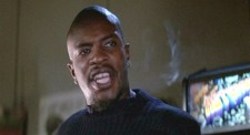 No doubt you remember the excellent character actor Keith David from John Carpenter's The Thing (his film debut) or even more so, his classic screen fight with Roddy Piper in Carpenter's They Live. He was also in Pitch Black, There's Something About Mary, and was the voice of Goliath on Disney's Gargoyles TV series, but next weekend, NYC fans can catch him doing something entirely different, singing the hits of Nat "King" Cole. No, really!
A longtime NY stage actor and voice-over artist (he voices all of the commercials for the U.S. Navy), David is also an accomplished singer (he was nominated for a Tony Award for Jelly's Last Jam) and will be taking the stage of the ritzy Feinstein's at the Loews Regency next Sunday and Monday (the 23rd and 24th) with his tribute to one of the all-time great crooners, Nat King Cole. While I would never expect to see the man who may (or may not) be The Thing singing standards, I've got to say this is a tantalizing prospect. I'd be there, but I've got my commitment to covering Fantastic Fest, you know; if you do go, please ask him to dedicate "Twilight Time" to me. I'd appreciate that.
Thanks to Scooter for bringing this to our attention.
Read More