Is Eleventh Hour The New X-Files?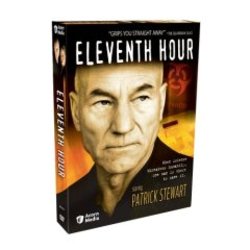 This morning, Variety is reporting that CBS is doling out between $25 and $30 million for a Jerry Bruckheimer produced U.S. version of the UK's Eleventh Hour miniseries from back in 1994. That includes a whopping $4 million for a pilot.
What's the fuss all about? Well, first off, Bruckheimer produced the hit CSI, CBS's most serious cash cow. He often does TV and movies right.
But Eleventh Hour "aired as a four-part miniseries in Blighty last year, with Patrick Stewart
starring. Thesp played Professor Alan Hood, who's called in by the
government to investigate mysterious cases that involve matters of
science — from cloning to global warming. U.S. adaptation is said to
have a tone similar to The X-Files."
I always thought what made the X-FIles work well in those first three seasons that were oh-so-good was a feeling of paranoid terror mixed with occasional horror. Hopefully, the same will be the case with Eleventh Hour: beyond sci-fi, it should have terror as its base. Has anyone out there seen the DVD of the miniseries? Do you think they'll tap Stewart to star in the series?
Read More