Indiana Jones and the….Kingdom of the Crystal Skull?!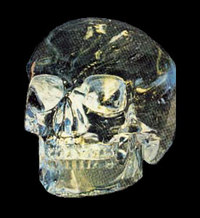 Last Night at the MTV Video Music Awards, media darling Shia LaBeouf was on hand to announce that the new Indiana Jones movie is called Indiana Jones and the Kingdom of the Crystal Skull!
If you're like me you're thinking — "that's so Harry Potter!"
then "…sounds like something you'd buy at a Grateful Dead shop…"
"…and it's somewhat Masters of the Universe…"
"…and it's kinda gay."
"…I wonder if that's why Sean Connery turned it down."
and finally, "that should be me instead of Shia LaBeouf."
Despite the stagey impromptu reveal, his announcement was the best part of the Show. (Okay, I didn't watch the whole show, but I'll go out on a limb and offer this opinion. Did I miss something better? Did Lily Allen punch Amy Winehouse in the hoo-haa?)
You can watch the announcement here..
Read More