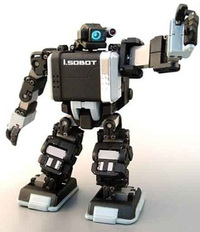 Robots used to be a figment of our imagined future. Can't wait? You're in luck.
Amazon is now accepting orders for Takara Tomy's i-SOBOT, the 6.6-inch tall robot that the company bills as the world's smallest humanoid robot.
Owning my own robot is on the same list as jet packs and rocket ships. The only difference is that jet packs and rocket ships cost more than the price of a new car. This robot is a lot more affordable. But what do you get for the $299.99 asking price?
17 custom designed actuators and a gyro-sensor – this is what gives the robot its balance so it doesn't fall over and make you feel like you were taken for $300. It also gives the robot its human-like movements, though the jury is still out on whether it can do a decent Michael Jackson moonwalk.
A speaking vocabulary of over 200 words and phrases and more than 200 pre-programmed movements – I'm not quite sure what I'd want my robot to say; I always imagined it as a silent slave. As far as movements go, if I can get the thing to wash my car, I'd be all over this.
Designed to follow up to 10 voice commands – Is "wash car" on that list?
OK, I think I just realized the real reason why I want a robot.
Takara Tomy's i-SOBOT available for pre-order in US [Engadget]
Read More