Hot New Series? Fear Itself!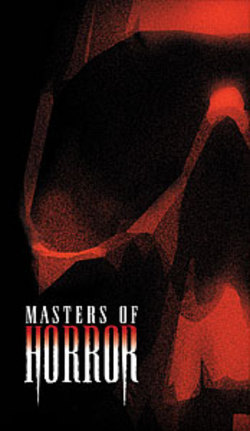 While I think that Showtime's Masters of Horror is sometimes scarily great, and sometimes, eh, not so much, overall it's a compelling series (especially John Carpenter's Cigarette Burns and Dario Argento's Jenifer from Season One).
That's why I feel there's reason to rejoice about the morning's news in The Hollywood Reporter, which says, "NBC has given the green light to Fear Itself, a horror-anthology series from the producers of Showtime's Masters of Horror. The network has ordered 13 episodes of Fear to air in the summer."
"Like Masters of Horror, which featured such
well-known filmmakers in the genre as John Carpenter, Joe Dante, John
Landis, Dario Argento, Takashi Miike and series creator Mick Garris, Fear will consist of 60-minute films by big-name horror writers and
directors." No word on how different the series will be from Masters, although the words "not as graphic" come to mind. This very frightening summer just ended, but I can't wait for next terror-filled June, July and August. So Fear: Scare me. And NBC: don't blow it.
Read More