Horror Department Mix Tape – Updated!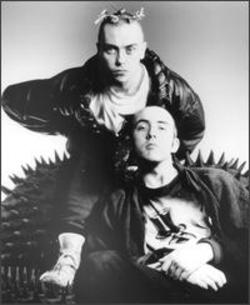 We're always fighting about music here in the Horror Department, and we can't keep our earbuds in all the time, so we need a playlist we can all agree on.
So…we thought we'd open it up to you, goatlings. Here's how it will work. It's kind of MySpacey, but we can handle it. I'll start it off by listing a song for Side A (back in the day "tapes" and "records" had "sides"), and when we get to five songs, we'll switch to Side B. How will we get to five songs? That's where you come in. List a song in the comments section of this entry along with, oh, say, a YouTube link, so folks can hear it, and I'll keep updating the body of this text, until we have a full "tape."
These are intended to be songs we wish were on the soundtracks to horror movies or remind us of the atmosphere of horror movies.
Try to keep to one song per comment. If it fills up quickly, we'll do it again and you'll get another selection.
So, Side A, Track 1 – Helter Skelter
(Meat Beat Manifesto). For the link, I chose a live version, because I
thought the stuff they were projecting on the stage was cool! Cool!
Your turn…go!
Side A
Helter Skelter – Meat Beat Manifesto
Tubular Hell – Van Helsing's Curse (should be first, I think – cool opener)
Pain (The Pray remix) – 3 Days Grace
Bark at the Moon – Ozzy Osbourne

Let's keep it up, we're almost to Side B
Read More