Homicidal Boar Is Dang Scary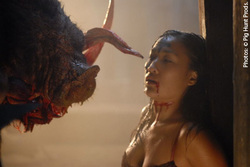 Man, remind me to give pigs more scare respect and horror props. I usually think these guys are cute and big with curly tails and pink noses when I see them at the county fair. If I wasn't frightened of these bovine oinkers before, I am after seeing the terrifying photos from the upcoming Pig Hunt, which "details the exploits of a
massive (and massively) homicidal boar known as "The Ripper" and the
various eccentric denizens of the remote northern California town it
terrorizes.
I mean, look at that photo. Looks like the poor woman's going to get fangs right between the eyes. More gross pics are up now on Fangoria and one's very, very gut-filled and bloody.
Read More