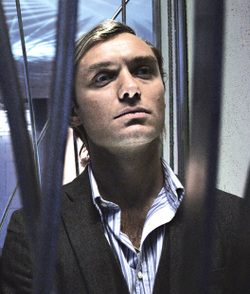 I was intrigued to read, via John DeNardo's blog the other day, of Jude Law telling Sci-Fi Wire about Repossession Mambo, the new film he's shooting in Toronto.
Not because it was news to me. I spoke to Law at the Toronto Film Festival. The topic was supposed to be his new film Sleuth, but talk turned to his next project.
LAW: I'm about to start a film with Forest Whittaker. It's a very witty kind of action thriller called The Repossession Mambo. It takes place in Toronto in about 20 years time. We play two ex servicemen who fought in a war in Africa and came back rather disturbed. We work for a union company that makes artificial organs, and if you can't pay for them we come and repossess them. Have you ever seen that Monty Python sketch? "We've come for your pancreas!"

ME (always eager to show off my command of obscure Python dialogue, continuing the scene from The Meaning of Life) "But I'm not done with it yet!'

LAW (laughing): Yeah! "It's alright, it won't hurt…" That's the kind of wit of it, it's quite funny.

ME: So this is going to be a dark science-fiction comedy?

LAW: Yeah. Well put! I'm going to remember that. You've come up with a very succinct way of describing it, you just got it. "Dark science-fiction comedy"—bingo!
And how did Law describe the movie to Sci-Fi Wire? As "a dark science-fiction thriller comedy." OK, he added "thriller," but I think I have reason enough to expect a check (or cheque, as they spell it in Toronto) from the film's publicity budget.
On my way back to my hotel late that night, what did I see on a Toronto sidestreet but a car with a placard in the window reading "Production Vehicle: Repossession Mambo." Or—wait it minute, you don't suppose they were shadowing me? Hey, I was just kidding about the cheque!
Read More