Heroes Heads to the Bookstore Shelves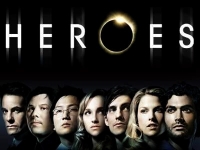 For those Heroes fans that can't get enough of Hiro and Sylar, Del Rey has announced the first Heroes media tie-in book.
Heroes: Saving Charlie, written by Aury Wallington, will be an original novel based on the characters Hiro Nakamura, who can travel through space and time, and Charlie, the Texas waitress with an extraordinary memory who Hiro tries to save from being brutally murdered by super-powered serial killer Sylar. As per Del Rey:
Fans of the television series were given only a brief glimpse into Hiro and Charlie's relationship as it grew into love over six time-changing months, but their history is told here with the depth and insight that only a novel will allow.
Media Tie-in books are nothing new. For years Hollywood has been capitalizing on their property by expanding them to other markets. Books are a natural extension to television shows and movies because there is more room for world-building. Readers get to explore the characters in depth, they get to escape for a few more hours.
Perhaps the most voluminous sets of titles of media tie-ins are related to Star Trek and Star Wars. Hundreds and hundreds of books that fans can immerse themselves in. The rules of media tie-in books say that nothing significant can happen to the major characters from the film or television show, otherwise the continuity of the original is damaged. Too bad George Lucas didn't know where he was headed with Star Wars before he OK'd Alan Dean Foster to write scenes in Splinter of the Mind's Eye (the very first Star Wars media tie-in) in which Luke has romantic thoughts about his sister. Eww.
Del Rey to Publish Heroes tie-in novel [SF Scope]
Read More