Hellish! Rob Zombie's El Superbeasto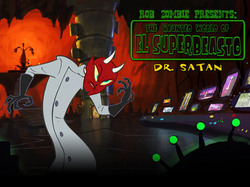 Over at Fangoria today, Rob Zombie took time out to spew about his new animated horror movie, El Superbeasto. Says Zombie, "El Superbeasto is almost finished," he told Fango recently. "They're working on the music
and sound effects now. I watched it the other day for the first time,
and it's awesome. It's so insane; even I was watching it and thinking,
'I cannot believe someone put millions of dollars into this.' It's a music,
and Paul Giamatti is hilarious as Dr. Satan. It's a beautiful-looking
movie. All these animators from studios like Disney came to work on
it—and they get to work on something filthy. It's probably XXX-level
now, but we'll have to cut it back to an R." Cutting? Can't wait to see the director's cut on DVD, then!
The plot? "The film follows the adventures of the title character (voiced by Tom Papa), a washed-up Mexican luchador,
and his sultry sidekick and sister Suzi-X as they confront the
aforementioned Dr. Satan. Once again, Zombie has gotten his wife Sheri
Moon Zombie in on the action, as she lends her sexy tones to Suzi-X." All in the family: nothing wrong with that.

Read More