Happy Birthday Linda Hamilton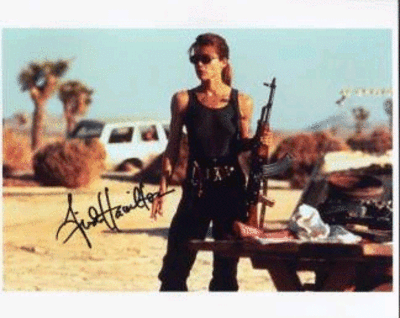 Science Fiction Films have often included a beautiful woman. There's the sensuous Jenny Agutter in Logan's Run and the stunning Catherine Mary Stewart in The Last Starfighter. The list goes on and on.
More often than not, the female lead needs to be rescued by the movie's hero.
But that formula was blown to pieces by Linda Hamilton in Terminator 2. She lit up the screen with violent sexiness as a wrathful Sarah Connor. Her performance made many a teenage boy wonder if he was, in fact, a lesbian.
Hard to believe the movie came out 16 years ago. Nowadays Miss Hamilton can be seen in made-for-cable movies with names like Silent Night and Sex & Mrs. X (yeeesh, so much for "No Fate"). But I will always remember her as the gun-toting, ass-kicking, chain-smoking, hospital-bed chin-upping, arm-breakin', hypdermic-needle-full-of-industrial-cleanser wielding, smokin' hot Mother of John Connor.
Lena Hedley has some big shoes to fill.
Read More