Happy Birthday John Sayles!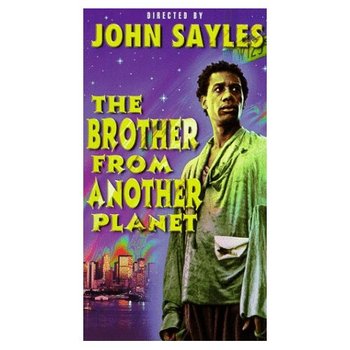 Let's all wish a happy 57th birthday to John Sayles, filmmaker, novelist, actor and certified genius (according to the MacArthur Foundation, who gave him one of their so-called "Genius Grants" in 1983).
Revered as one of the most intelligent and uncompromising of American filmmakers, Sayles was a die hard independent long before "indie" became a buzzword. But while the films he directs tend to focus on groups of characters reacting to a single dramatic situation, he also has surprisingly solid sci-fi cred. Consider:
—He wrote and directed The Brother From Another Planet (1984), one of the best sci-fi films of the 1980s. Joe Morton stars as a gentle alien slave (Joe Morton) who escapes to Earth, where he attempts to hide (in Harlem) from a pair of exraterrestrial bounty hunters (played by Sayles and a young David Straithairn).
—After publishing his first novel in 1975, he broke into the movie business by selling scripts to Roger Corman. They were genre efforts, but rather than looking down on them as work for money he tried to elevate the tone of whatever he was hired for. He modeled Battle Beyond The Stars (1980) on the Japanese classic The Seven Samurai. And his scripts for Alligator and Pirahna made those into B-movie classics.
—Sayles has funded his own films by polishing the work of other writers on the way to the camera. (Read Roger Ebert on Sayles career as a "script doctor".) He's known to have worked on Mimic and Sam Raimi's The Quick and the Dead. And he did so much work on the final script of the much praised sci-fi docudrama Apollo 13 that director Ron Howard and producer Brian Grazer felt he should have been given screen credit. The writers' guild disagreed. (The finished film was nominated for an Oscar for its screenplay.)
—He's currently credited as one of the scripters of Jurassic Park IV, which (despite the ugly rumors about the story concerning gun-toting dinos) guarantees it should be better than at least JPs 2 and 3, and The Spiderwick Chronicles, the big screen adaptation of the fantasy novels by Holly Black.
Read More