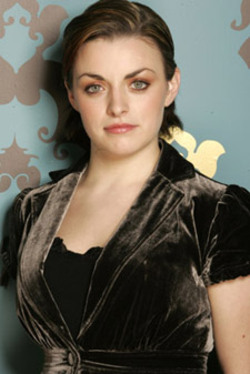 After some trouble getting it together, the legendary Hammer Films is back after 13 years on hiatus, and here's some news.
1) The producers of Beyond The Rave filmed a huge rave scene with a bunch of extras in a secret South London locale about 10 days ago. The extras got the star treatment, too, getting free transportation to and from the set.
2) If you're in Northern Ireland, you can actually take a Hammer Films course at Queen's University in Belfast. Classes started yesterday, but I bet you still can get into 'Hammer Horror and the British Film' taught by Robert Simpson every Tuesday night from 7 p.m. to 9 p.m.
3) Beyond The Rave, starring Nora-Jane Noone (left) of Magdeline Sisters fame, says Fangoria, "draws inspiration from the
works of Bram Stoker and Anne Rice, as well as the '80s classics The Lost Boys and Near Dark, to tell a vampire tale set in England's
underground party scene. The story follows soldier Ed, who is about to
ship out to Iraq and spends his last night at home searching for his
missing girlfriend, who was last seen in the company of a gang of
strange nocturnal ravers led by a strange sort named Melech." Says
producer Ben Grass, "Beyond The Rave was inspired by Tom and my own
experiences of raves: the great highs, and the demons that can lurk in
the dark before dawn." And controlled substances, looks like.
Read More