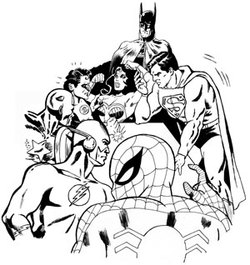 If you're going to be in Manhattan on the weekend of October 5-7 and money is no object (yeah, right), check out the New Yorker Festival, which yearly "bring[s] together some of the brightest and most inventive minds, across disciplines and from around the world." In other words, interesting people talking to other interesting people.
Of particular interest are two events scheduled for Saturday Oct. 6.
The panel discussion "Outside the Box: Television masterminds" includes "Battlestar Galactica"'s Ronald D. Moore, along with Jenji Kohan ("Weeds"), David Milch ("Deadwood"), David Shore ("House"), and David Simon ("The Wire").
"Superheroes: Up, up, and away" offers Tim Kring ("Heroes" and the upcoming spinoff series "Heroes: Origins"), Mike Mignola ("Hellboy"), Grant Morrison ("Arkham Asylum"), and novelist Jonathan Lethem, whose update of Omega the Unknown will be published by Marvel in October.
And if you're not going to be in Manhattan, or you just don't want to pay to see these guys sitting around yakking? Sign up at the website, where some of the events will be available for online viewing.
Read More