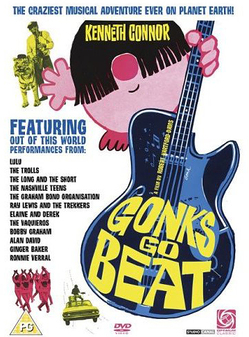 In the world of low budget sci-fi, they don't come much more obscure than Gonks Go Beat, a 1965 British film making its video debut this week. It's essentially an excuse to compile performances by some bands who were big the week the film was shot—or at least whatever bands could be roped into the studio for long enough to lipsync to their current platter.
Still, given such minimal requirement for a plot to tie things together, the writers outdid themselves: In outer space, the Great Galaxian is concerned that two nations on Earth may go to war to resolve their incompatible differences. (Sounds like Plan 9 From Outer Space so far!)
It seems the nations of "Beat Land" and "Ballad Isle" can't decide whose music is the best. Unfortunately, the G. G. only has one emissary available to send, the bumbling (of course) Wilco Roger (played by veteran British comedian Kenneth Connor, star of a zillion "Carry On" movies.) Wilco saves the day by arranging a Romeo and Juliet scenario between youngsters of the two countries in between marvelling at performances by the likes of Lulu and the Graham Bond Organization (featuring Jack Bruce and Ginger Baker, later of Cream).
I won't lie to you: I've never seen this one, though this reviewer from the British website The Spinning Image has. But if the following clip is representative of the whole film, it's going in my collection:
Read More