Fessenden's Masterwork: The Last Winter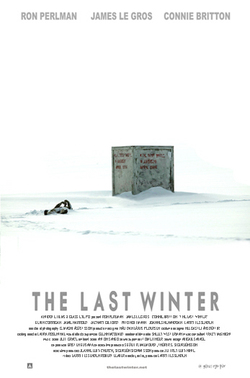 Larry Fessenden has been toiling away in the world of DIY horror since as long as I can remember. Back in the day on the Lower East Side, performance artist Heather Woodbury was so thrilled to star in Fessenden's vampire film, Habit, she just glowed when she told me about it.
As the years passed, I loved Fessenden's Wendigo, which I saw just when I purchased a place up in the Catskills. Since it takes place in Phoenicia and the surrounding areas near my cabin, the movie made me think everything in those dark mountains was haunted. Fessenden proves you don't need million-dollar special effects to make a great scary movie.
Today, Larry's The Last Winter hits theaters and just about every critic loves this movie. Says the usually-tough Manohla Dargis of The New York Times, "It's amazing what you can do with a low budget, an expansive
imagination and a smooth-moving camera. (A fine cast helps.) An heir to
the Val Lewton school of elegantly restrained horror, wherein an
atmosphere of dread counts far more than a bucket of blood and some
slippery entrails, the director Larry Fessenden is among the most
thoughtful Americans working on the lower-budget end of this oft-abused
and mindlessly corrupted genre."
Also, check out the ambient music from my pal Anton Sanko: the guy is brilliant (Sorry I can't make the book group this time, Anton: too much damn travel).
Read More