Fantastic Fest:Don Dohler Remembered In "Blood, Boobs And Beast"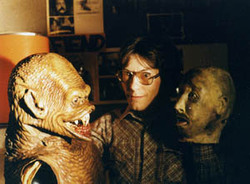 The three things needed to sell a movie are blood, boobs and beast, as the saying goes in John Paul Kinhart's new documentary of the same name, but a lot of heart doesn't hurt, either, and that's what sets Blood, Boobs and Beast apart from so many others of its type. This is a film with a genuine affection for the genre and those who devote themselves to it.
The name Don Dohler may not mean much to most of you, but to a lot of low-budget filmmakers he was both an inspiration and beacon of support. Starting in the early 70s, when he created and published Cinemagic magazine (one of the first DIY SFPX mags) to his early low-budget sci-fi and horror films like The Alien Factor, Fiend and Nightbeast, Dohler proved that you could make movies (and profits) without leaving home (Baltimore, in this case). Even though Dohler never got much respect as a filmmaker (even in genre circles) and his films are still remembered mostly today for their airings on Mystery Science Theater 3000, Dohler has plenty of supportive fans who love his films.
Blood, Beast and Boobs follows Dohler through the production of 2006's Dead Hunt, which would end up being his final film before succumbing to cancer last December. But even without that sad coda, Blood
presents Dohler to be a man who loved genre movies and loved making
them, despite all of the hardships he had to go through to get them
done. Kinhart gives us interviews with Dohler's friends,
collaborators, and the man himself unearths a relatively simple man
who just did what he loved and followed his passion in life. The
question of just how good Dohler was at it becomes irrelevant when you
see just how much he's loved and admired and by how much that impacted his life. Blood, Beast and Boobs proves that horror fans aren't depraved but rather regular folk who simply love these movies.
Read More