Fantastic Fest: Two Killer Shorts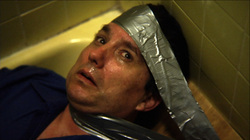 Short films are the backbone of many a film festival (and the place where emerging talent is often found) and Fantastic Fest has commendably programmed several top genre short films this year and in a couple of cases they outdo several of the big-budget features.
Two of this year's best shorts are Richard Gale's Criticized and Faye Jackson's Lump, each of them proving to be excellent examples of the art form, quick concise pieces of storytelling that deliver. Criticized takes a simple and somewhat easy premise (filmmaker gets violent revenge on a film critic for a career-damaging review) and milks it for all its worth, getting a lot of suspense out of nothing more than two characters in a bathroom, and Gale also comes up with one of the queasiest moments of the entire festival with nothing more than a paper clip. Criticized is witty throughout and well-acted by Brian Rohan, and no, I'm not saying all these nice things because Gale is threatening to kill me, since it shared the audience award for best short at this year's Fantasia fest.
While Criticized is good, old fashioned Grand Guignol, Lump
is something of a different sort, an incredibly disturbing piece that
contains more real horror in it than almost every major studio horror
release this year. You're walking a very fine line by using breast
cancer as the backdrop for a horror film, but major credit to Jackson
for pulling it off. This is one piece that really messes with you and
will not be easily forgotten; in fact, I'd go so far as to say it was
one of the best films I've seen at Fantastic Fest, short or otherwise.
Maybe not everyone will appreciate it, but Lump is truly unsettling and I hope will be seeing more from both Jackson (and Gale) in the near future.
Read More