Fantastic Fest: "The Orphanage"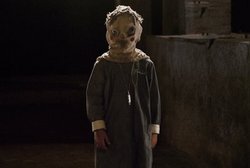 One of the big pluses of Fantastic Fest are the many "Secret Screenings" sponsored by Harry Knowles' Ain't It Cool News website, which give you an opportunity to be among the first to see some of the hot upcoming films long before their theatrical release. This year's crop have given us some interesting and certainly offbeat fare, like the French animated film Persepolis (one of the big winners at Cannes this year), the bizarrely amusing Japanese giant hero spoof Dia-Nipponjin, and Richard Kelly's Southland Tales, which is an absolute mess, but a sprawling and ambitious one.
Many of the festival goers were placing their bets on screenings of high-profile horror releases like 30 Days of Night and The Mist, but came up short on both. But last night's screening of The Orphanage seemed to satisfy everyone.
The Orphanage has been getting massive amounts of pre-release hype as the year's big classy horror film (it's Spain's official selection for the Best Foreign Film Oscar, a fact that the filmmakers learned while at Austin Karaoke at about 3am this morning – yes, I was there ). It's a very well-made and I don't think will disappoint most of you. But it's not the scariest thing I've seen all year and not all movies can live up to their big buzz and The Orphanage is one of them.
Produced by Gulliermo Del Toro (who introduced the screening via video) and directed by Juan Antonio Bayona (who was at the screening) The Orphanage is in the spirit of the works of Del Toro and Alejandro Amenebar. It looks great, has beautiful production design, treats the genre and the audience with intelligence and respect, plus there are some good jumps. But there's also a big downside (for me) in that a lot of this material feels like it's been lifted from other sources — Poltergeist, The Devil's Backbone, The Others, the original Friday the 13th, among others — and because of this I think it's missing that vital element of horror classics: originality.
This really is the stumbling block for me. It may not be the case for you and the crowd seemed to really like the film (and the critics have been extremely enthusiastic, too).
The Orphange opens in late December.
Read More