Fantastic Fest: Follow This One To The "End Of The Line"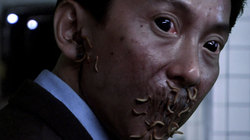 There is a wonderfully gross and audacious moment in Maurice Devereaux's End of the Line that, while I don't want to give it away, had the audience sitting in stunned disbelief, followed by a slow tinkling of applause and finally a shout of "Bravo!".
Devereaux has been at movie-making for a while now, helming the features Lady of the Lake and $la$hers in his native Montreal, but with End of the Line he's finally proving himself to be one of the genre's new emerging talents. A fast-paced tale of survival and the apocalypse, End finds a group of strangers stranded in a subway subway in the middle of the night, all of them attacked by fellow passengers whose motives I don't want to reveal. Let's just say it has a little something to do with the apocalypse.
What's most impressive about End of the Line is that its "monsters" are real (if crazy) people. It's not a zombie or supernatural movie and that's not only refreshing, but it helps keep you involved in the fate of its characters.
Devereaux keeps everything moving without a great deal of character development or back story, which could backfire but works here. He's also helped by a solid cast, with Elona Elkin and Robin Wilcock as standouts, and a nice and creepy subway set that effectively plays on fears of being trapped down below. Devereaux also earns props for a beautiful final image and is yet another winner for Fantastic Fest.
Read More