Fantastic Fest: "Five Across The Eyes" Is A Find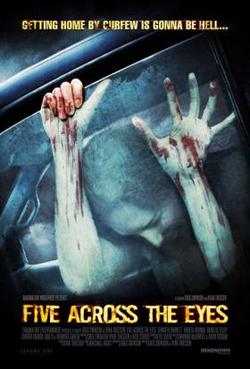 Film festivals are all about finding surprises, those titles that have slipped under your radar that you take a chance on in the hopes of uncovering a hidden gem. The second night of Fantastic Fest one of those surprises surfaced in Ryan Theissen and Greg Swinson's tight little winner Five Across The Eyes.
Remember that scene in Blue Velvet where Dennis Hopper's Frank takes Kyle MacLachlan on a joyride and you're trapped in the car with them in the middle of the night and have no idea where they're taking you? Well, imagine that Frank isn't in the same car as you but actually in the car that's been trying to run you off the road for the last 90 minutes. That's pretty much Five Across The Eyes in a nutshell, taking five innocent high school girls who are lost on a country road late at night and putting them up against a mentally unbalanced woman who keeps trying to run them down. The premise doesn't stray too far from that, but what the filmmakers do with it proves that they have a lot of imagination and a real sense of what makes low budget horror work.
Told entirely in real time, Five Across The Eyes takes place completely at night and inside a minivan, with the camera never once leaving it for its entire running time. Some may see this as a set of limitations (or just staying cheap and low budget), but when forced to work within these confines Theissen and Swanson prove that they can milk suspense out of it pretty damn well. Add to this that the cast is comprised of entirely nothing but screaming girls and one crazed woman in the other car, and the film may seem like it doesn't have much going in its favor, but trust me, this one works incredibly well, ringing a lot of suspense from seemingly very little.
Five Across was all shot on mini-DV camera and there's a lot of blurry footage and some unintelligible sound, but when you're in the thick of watching the film, it doesn't matter all that much. The girls are all very good (special props to lead Sandra Paduch) all of them able to pull off distinct characterizations in very trying circumstances. It's looking like the film will be getting some kind a distribution (we'll be updating you on that), so keep your eyes and ears peeled for this little winner. Thanks, Fantastic Fest!
Read More