DVD Deal: Decrepit Crypt (50 Movies!)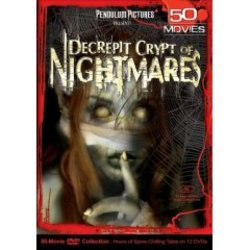 I've been a fan of these huge DVD movie packages that give you a ton of movies at a cheap price. Like, last Christmas, someone gave me a package of 50 Horror Classics. I think she got it on sale for about $15. Today, as I trolled around Amazon for Death Proof, I found Decrepit Crypt of Nightmares from Pendulum Pictures.
It, too, offers up 50 movies, many of which I've never heard of. Sure, I know you're going to say that's probably why there's 50 of them: they're no good. But if it's horror, I'll pretty much give anything a chance. A reviewer on Amazon says, "These movies are a throwback to the early '60s type of drive-in theater
gorefests that were once popular with teens. If you're looking for
big-budget state of the art special effects and top rank actors this
series may not be right for you. Fans of murder, mayhem and maniacs
will not be disappointed by this up-to-date collection, however."
Man, the some of titles just make me laugh and want to watch: Blood Sucking Babes from Burbank, Hip Hop Locos, Hollywood Vampyr, and Prehistoric Bimbos in Armageddon City. Not bad at all for $27.
Read More