Does Star Trek XI Have Its Kirk?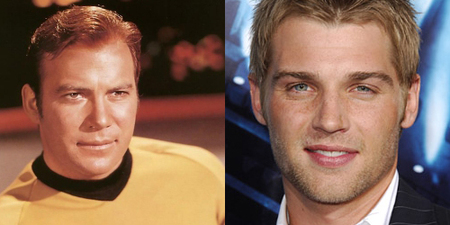 It seems like every new day begins with the rising sun and the birds twittering the latest Star Trek XI casting rumor. These rumors are always about actors I've never even heard of. It makes sense, of course: given the fact that a part in Star Trek pretty much typecasts you for life, and given how much baggage established actors bring to the table, new blood is just the ticket.
The latest casting rumor is a big one, though. It's no Chekhov or Uhura. It's the big cheese himself, James T. Kirk, so consummately identified with the herky-jerky thespian charm of William Shatner that it is frankly impossible to imagine anyone else in the role.
The young thespian up for the Captain's Chair? Relatively unknown Mike Vogel, who previously was in Poseidon and already has a J.J. Abrams connection due to his role in the upcoming, ultra-mysterious Cloverfield production.
I'm not familiar with this guy, but my first impression is he doesn't have the look: his handsomeness is far too boyish, his features contain none of the sarcastic suassivity and self-assurance I associate with Kirk. What do you think? Does he work?
JJ Abrams' James T. Kirk Casting Revealed? [IESB]
Read More