Do You Believe In Curses & Fortune Telling?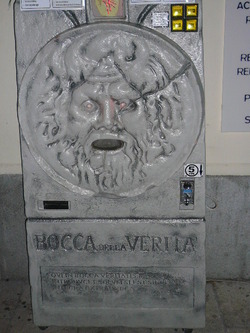 On my last night in Dubrovnik, I had finished filing my video game-related stories and went out to a fancy restaurant with a passel of other journalists. After dinner, I stumbled upon this electronic prediction game, a Bocca
della Verita bas-relief, very closely based on the one which offered up Audrey Hepburn's fortune
in Roman Holiday. See the evil thing in my photo to the left.
I tossed in the equivalent of 1.25 cents, cheap, I thought, for a nice fortune. The machine growled in this Mercedes McCambridge/The Exorcist/Satanic voice and asked me to place my hand in its mouth. Spewed at me were insults that were totally unexpected, ones that no man or woman should hear. And then…
The machine coughed up a paper fortune that said I was bad at making friends but terrific at having sex. The night was a downhill roller coaster ride from there. I went from elation at a nearly perfect evening to a slip into this Hellish whirlwind of desperation and horror that can only be considered horror-movie-like in proportions. (If we ever meet, I'll tell you about it over a drink.) In a nutshell, I was cursed and so, so glad when dawn came and I was on the plane back to good old New York City. Sony, my hosts, had put together a terrific trip – but I had to tempt fate with that evil-looking devil machine.
Read More