Director of The Secret Announces New Project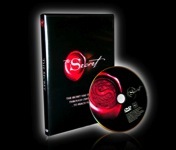 The Secret is a
DVD that tells you how to make your life awesomely perfect by imagining that it
already is, or something like that. Lots
of people swear by it, or at least have checked it out – it's #14 on Amazon's
bestselling DVDs list despite being released almost a year ago. And according to the director's website, the
sort-of documentary "has been hailed by critics as one of the most
important films ever made."
Now that director, Drew Heriot, is planning a new feature
film called The Aquarian Gospel,
about the years of Jesus Christ's life that aren't discussed in the Bible. The script, by John F. Sullivan and William
Sees Keenan, is based on two books and on what the writers call "the lost
gospels that shed light on Jesus' secret teachings predating the four canonized
Gospels."
Heriot's previous credits include several episodes of "Sensing
Murder," an Australian television series.
If production goes half as smoothly as on the set of The Secret, it will be a joy and a
pleasure for all concerned. Rhonda
Byrne, who discovered The Secret in 2004, actually used The Secret to make The Secret! Meta.
Read More