Depp Sings and Slays in "Sweeney Todd"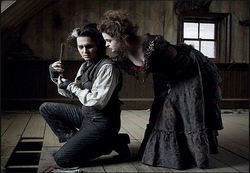 "I am just trying to make an old-fashioned horror movie with music in it."
So says legendary director Tim Burton, receiving the prestigious Golden Lion award for lifetime achievement in film at the Venice Film Festival this week, before screening an 8-minute clip from his upcoming adaptation of Sweeney Todd: The Demon Barber of Fleet Street. Long in the works (Burton was originally attached to direct it back in 1992!), the film stars Burton regulars Johnny Depp and Helena Bonham Carter (along with Sasha Baron Cohen) and is based on Stephen Sondheim's Tony award-winning classic musical about a murderous barber (Depp) out for revenge. Sounds like our kind of musical.
The Venice crowd was treated to an entire number ("My Friends") and Depp (who does his own singing) is said to be as accomplished a singer as he is an actor. The film is one of this year's big Christmas releases and is said to be extremely violent (Burton says, "It's quite uncharted territory. I don't think there are that many horror movie musicals out there these days.") and headed for a "hard 'R'" rating. And they say that musicals are for wussies.
Sweeney Todd opens on December 21.
Read More