Death Proof DVD Drops Tomorrow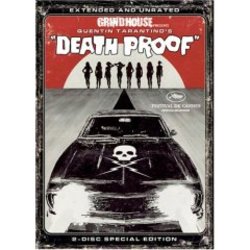 Sadly, Grindhouse was a bomb at the box office. Now, in an effort to make some of the money back, they're releasing the two films of the double feature separately. First comes Quentin Tarantino's "extended and unrated" Death Proof with Kurt Russell as an over-the-top slashing serial killer. The film is supplemented with a lost reel (essentially, a reel with a ton of sex in it) that wasn't seen in the theatrical release. There's also an extra disk that includes five featurettes (basically, making-of deals). What else? A the fake trailer to the fake film Double Dare and a gallery featuring movie posters from the world over.
A lot of folks are grumbling that both features that made up Grindhouse aren't in the DVD pack. And frankly, I'd love to see them both together. Still, I see the sense this makes as far as trying to find a return on your money goes. And my bet? After we see Rodriguez' Planet Terror on its own DVD, we'll see the two wrapped up together in a Grindhouse package – somewhere around next Halloween. But that's just me prognosticatin'.
But what about you? Would you liked to have seen the two films together, or are you interested enough to buy them separately?
Read More